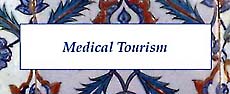 Since 1992, International Medical Care has provided international patients and their families with excellent services, including the best medical treatment available at the University of California both in Los Angeles (UCLA Medical Center) and San Diego (UCSD Medical Center) beside other medical centers in Southern California. The scope of services we provide makes the patient and their family feel that we are their home away from home.
Now, International Medical Care is proud to add our Medical Tourism Program.

Enjoy the beauty and excitement of Southern California, where the weather is exceptional and the sightseeing is wonderful. Southern California is the home of top quality medical facilities and world famous attractions like Hollywood, Disneyland, Universal Studios and more.
Maintain your good health with your annual checkup performed by some of the best physicians in the world, using the most sophisticated equipment and the latest medical developments, while also enjoying a memorable Southern California vacation.

Choose from a host of sightseeing tours and, based on your needs and the physicians' recommendations, choose from three Executive Physical Programs.
How you can learn more about this program
The first step is to complete the Medical Questionnaire Form. The finest American physicians and the hospital representatives will review your medical questionnaire form, provide a free assessment of your health care needs and make the appropriate recommendations.
The second step is to click here to complete the Registration Form.
International Medical Care will immediately reply to your email, letter, or fax with the approximate length of stay and the program rates that specifically meet your needs.

Home | Medical Services | Client Services
Medical Tourism | Executive Physical Programs | Sightseeing
UCLA Medical Center and other facilities | Southern California Links
Medical Questionnaire | Contact Us | No Frames
---
Copyright © 1998, International Medical Care, Inc.

Email comments and suggestions to International Medical Care, Inc.

This page was last updated June 24, 2008
and is located at https://www.internationalmedical.com/r-and-r.html