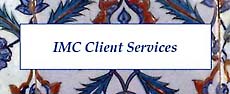 Upon Arrival
At the airport, you will be met by a representative who speaks your language. Our representative will assist you at the airport, arrange for your transportation and accompany you to your accommodations. We can arrange your stay at a hotel or in an apartment, whichever suits your needs.
During Your Stay

During your stay in Southern California, IMC will assign a representative who speaks your language to accompany you on every visit to the specialists and the hospital.
Should you require surgery or a transplant, our medical staff will translate and explain all the procedures every step of the way, and do all the necessary follow-up as prescribed by your American specialist.
We will assist you in arranging all your transportation needs. We will arrange for an insured licensed qualified drivers to be always available for transportation of the patients, their family members and companions. The medical staff of IMC will monitor your progress during the entire stay, providing translations of all medical reports, arranging follow-up visits with your American specialists, delivering prescription medications, and we can also arrange for home-care nurses after your discharge from the hospital.

Services Provided By IMC
Pre-arrival review of medical requirements
Preparation of a report which includes treatment plan, length of stay and cost
Airport assistance
Arrange for transportation with independent licensed drivers who speak your native language, if requested.
Accommodations in hotels or apartments
Coordination of appointments with one or more leading specialists
Monitoring of hospital stay
Translation of medical reports
Delivery of prescription medication
Home-care nursing
Doctors on call 24 hours a day
Home | Medical Services | Client Services
Medical Tourism | Executive Physical Programs | Sightseeing
UCLA Medical Center and other facilities | Southern California Links
Medical Questionnaire | Contact Us | No Frames
---
Copyright © 1998, International Medical Care, Inc.

Email comments and suggestions to International Medical Care, Inc.

This page was last updated June 24, 2008
and is located at https://www.internationalmedical.com/services.html